Bandolero
Car Spec.



Greg's Bio


Photo Page.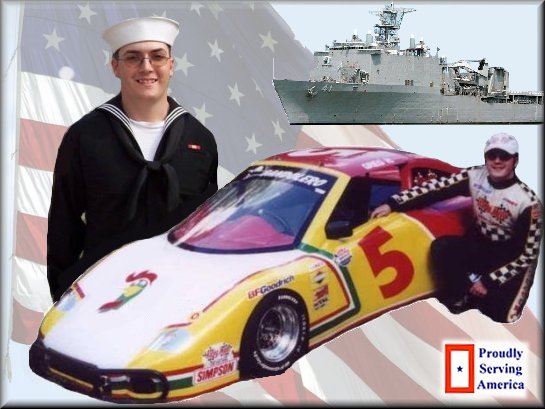 "No race team can assure wins, but we can commit to"
"The desire for excellence and a passion to win."



" Family Pride Race Team Update "
May 16, 2005..

"Greg Joins NCQMA Quarter Midget Speedway ".

Since Greg return from the Persian Gulf, he's has been interested in
getting back into racing and joined the NCQMA Speedway in Salisbury.
This is the track Bobby Labonte built for Quarter Midgets. Greg is a
former Regional Champion and started racing back in 1994. His Father is
the Flagman at the track. He has made alot of good friends a the track.
But once again he has to put his racing on HOLD. His ship is being deployed
to the Pursian Gulf again in support of operation Iraq Freedom. He has been
talking alot about making a come back. For now he has to finish his Tour od Duty.
MORE TO FOLLOW...AS I GET EMAIL FROM HIM





" Family Pride Race Team Update "
September 17, 2004..

"Greg and His Ship Return from the Persian Gulf ".

Greg was very busy during the Med cruise. They left the Med via the Suez Canal and headed to the Gulf of Ormand, and Portedi n Barian, then North. While in Barian Greg got some updates on how the Navy's No.#14 was doing in the Busch Series. Greg recieved the "Blue Jacket Award" of the Month Award from the Captain. Upon arrival he was promoted to Damage Control Third Class Petty Officer.

When he got back I told him that a driver he met at Charlotte Motor Speedway, "David Stremme", would be driving the car. He was real happy about that. Now that he is home, when he has weekend liberty, Greg helps his Dad at Bobby Labonte Race track in North Carolina with Flagging, but he is still hoping to get back into racing. MORE TO FOLLOW...





" Family Pride Race Team Update "
Feb. 19, 2004..

"Greg and His Ship Deploy to the Med ".

The 7 a.m. departure of the Little Creek-based dock landing ship Whidbey Island — and the two LCACs scheduled to meet it — was delayed by an unspecified "small engine problem," according to Chief Journalist Mike Viola of Amphibious Group 2. The ship was expected to get underway by late afternoon, he said.

Greg's ship, The Whidbey Island LSD-41 and the Uss Wasp are sailing with the cruisers Leyte Gulf and Yorktown, the guided missile destroyer McFaul, the amphibious transport dock Shreveport, the attack sub Connecticut and the 22nd Marine Expeditionary Unit. We wish them all Good Luck, smooth sailing. They will hopefully be returning in Six Months.





" Family Pride Race Team Update "
Jan. 24, 2004..

"Greg's Looking to Race at Southside Speedway in Richmond".

Greg Hervieux, former 1999 Young Guns Champion at Concord Motorsports Park, is looking to race at Southside Speedway in Richmond. Greg will be station on the Uss Whidbey Island LSD-41 in Little Creek Virginia. He sold his bandolero but is looking to get back into racing. If you have a car that needs a good driver or want to compete in two division and need a second driver for your car, Email us, Family Pride Racing and maybe we can work on a race program. Any help in getting Damage Control Fire Fighter Greg to race would be great. He would Race in the Outlaw Division.

His Crew Chief works on a Busch Race Team and has alot of knowledge on Set-up as he did when they won the Championship in the Young Guns Division.





" Family Pride Race Team Update "
Nov. 7, 2003..

Greg's Bandolero Racing put on Hold!!!...

Greg has Graduated from Navy Boot camp and is now set for Fire Fighting School at Great Lakes Based in Chicago. Greg is very proud to support and to defend the country he loves so much. He is also proud to see all the fans waving the flag at the races, and to see his favorite race cars support our country and troops by painting them with the american flag design. It means alot to him now as he serves in the U.S. Navy. Yes he is not racing any more but it will always be in his heart as he watches racing events. But for now he is one of many that will go forward to defend and protect our country so we may have the freedom to go to sporting events and his, Autoracing..

More Updates to Come...




" Family Pride Race Team Update "
July 31, 2003..

Greg's Bandolero Racing put on Hold!!!...

The American Flag picture above will mean alot more to Greg as he has put his racing on hold and join the the U.S. Navy. Greg hopes to make a few races at Concord Motorsports Park when he gets some liberty. He wishes all his Bandolero friends and INEX officials the very best....




" Family Pride Race Team Update "


Greg is recognized by the POW/MIA's Freedom Fighters...

The following POW/MIA Freedom Fighter's Member Gregory Hervieux, has joined the cause through the Community Outreach Program. This individual does his part to help in many ways, and shows you don't have to be on-line to help. To this very special person, and all others who help . . . We Salute You!

Gregory Hervieux is one individual we'll be doing a special page on his efforts. This young man has been showing his support of our POW/MIAs since he was 10 years old. We are happy to welcome him as a member of the ...POW/MIA Freedom Fighters. Please visit our page on Bandolero Driver, Greg Hervieux at the following address.

Greg Hervieux POW/MIA Freedom Fighters.




"I will miss you Tony, Gregory..."


Thanks for your help and support of Our Team.



This Website is © Design and Maintain by:
Racing WebDesign ©



" Proud to Display, My Special Award"



© 2000 Site design by Racing WebDesign.©